Super Nice 19' Mobile Kitchen Food Trailer Condition
Super Nice 19' Mobile Kitchen Food Trailer Condition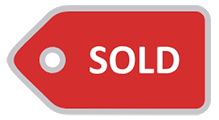 Become the favorite stop for great eats with this super nice 19' mobile kitchen food trailer in pristine condition! This unit comes with a great set of equipment! Don't miss out, find out more about this beauty by calling us today!
.
Equipment List
Vehicle Features

Air Conditioning

Concession Window(s)

Awning: Vinyl

Exterior Customer Counter
Refrigeration

Deep Freezer: Ikon
Refrigerator: Ikon
Prep Station Cooler: Duker, 48"
Cooking Equipment

Stovetop: Cook Rite, 4 burners
Oven: 2 burners
Flatgrill: Cook Rite, 36"

Fryer(s)

Stock Pot Burner: Hot pot burner with swing out water arm
Food Service Equipment

Soft Serve Machine(s): SaniServ table top
Ice Block Maker: Ice-O-Matic
Electrical

Exterior Lighting
Plumbing

Hot Water Heater: Gas, On-demand
Additional Equipment

Additional 1: 8' sink for cleaning