Chevrolet Grumman P30 Smoothie and Italian Ice Cream Truck
Chevrolet Grumman P30 Smoothie and Italian Ice Cream Truck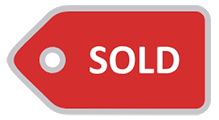 Take the icy goodness of your treats to the streets using this 1985 Chevrolet Grumman P30 smoothie and Italian ice truck! Its prep area was installed in 2015 and it has driven 138,000 miles.
.
Equipment List
Vehicle Options

Concession Window(s): 1 - 3'
Insulated Walls: plywood and paneling

Diamond Plated Aluminum Flooring
Equipment Power Supply

Generator
Refrigeration

Deep Freezer: Kenmore
Food Service Equipment

Commercial Blender / Juicer
Kitchen Equipment

Work Table: metal
Electrical

Exterior Lighting: LED
Interior Lighting: LED
Breaker Panel: 100 amp
Plumbing

Hot Water Heater: Electric

Hand-washing Sink

Triple Sink

Fresh Water Tank: 40 gallons
Gray Water Tank: Needs a gray tank, he's buying one.
Retail Equipment

Sound System: inside
Other Equipment

A/C Power Outlets: 5 outlets inside

Transmission - Automatic

Gas Engine

Exterior Work Lights