Barely Used 2019 - 7.4' Electric Motorcycle Shaved Ice/Snowball Cart
Barely Used 2019 - 7.4' Electric Motorcycle Shaved Ice/Snowball Cart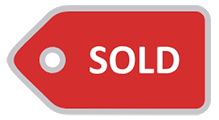 Get people's attention and stand out from the crowd when you serve your icy treats using this 2019 - 5'2'w x 7'4"l electric motorcycle shaved ice cart!
It was stored until used for one
fundraising
this summer for a total of approx 11hrs.
More information available below.
*
If paying full asking price, seller will include a Great Northern Hawaiian shaved ice machine, (was used for the fundraising but no other time) and a case of the containers to make block ice.
.
Equipment List
Vehicle Features

Concession Window(s): 4 sliding windows - 6' total length
Floor Drains: one on counter/freezer area
Awning: very easy manual awning approx 4' when fully extended

Diamond Plated Aluminum Flooring

Exterior Customer Counter: removable
Refrigeration

Deep Freezer: freezer under back counter 47" wide
Food Service Equipment

Ice Shaver: new Great Northern Hawaiian Shaved Ice machine (optional)
Electrical

Interior Lighting: fluorescent on ceiling
Electrical Outlets: 3

Breaker Panel
Plumbing

Hand-washing Sink: small divider to separate it from other 3sinks to pass inspectio

Triple Sink
Retail Equipment

Cash Register: locking cash drawer that can be attached to a POS and a printer
Other Equipment

Transmission - Automatic
Additional Equipment

Additional 1: attached stabilizer jacks
Additional 2: Feimin PZ30 lighting distribution box
Additional 3: water pump
Additional 4: storage shelf
Additional 5: storage room under the counters